LOCAL ATTRACTIONS

Town Trails
Explore Newcastle Emlyn's history, architecture & wildlife using the Audio Trail or the Treasure Trail.
The Audio Trail app is bilingual and makes use of GPS to show places of interest in and around the town. You will be able to view some archived images of Newcastle Emlyn and listen to some audio pieces by Ken Jones, a local historian with a wealth of local knowledge.

Learn about:
The Cawdor hall

The first printing press in Wales

'Gwiber Emlyn' - The dragon serpent

The workhouse
Audiotrails

Treasuretrails



Castle Grounds & Riverside Walk

There is path that follows the river Teifi around the Castle ruins Grounds and Riverside Walk. There are many information boards located at the enterance listing the Castle's history.



The Weir

Originally built of rocks across the river it was rebuilt in 1885 by Earl Cawdor (Carmarthen side) and in 1886 by Fitzwilliams of Cilgwyn (Cardiganshire side). It had a leet each side, the Cardiganshire one went to the woollen mill at Adpar (now a private house) and the Carmarthenshire one to a corn mill which in 1909 was converted to a Power House by Roger Parkington to supply the town and Adpar with electricity. The Power Station still exists with original turbines but does not run due to lack of water. It is in private hands. When the weir was rebuilt a fish pass was added to satisfy the gentry upstream of Newcastle Emlyn. It is now in need of repair with the Cardiganshire weir missing altogether.



Capel Bach y Drindod

Though nothing remains of this Capel Bach except a plaque in the Castle car park it was an important structure as it was a Chapel of Ease under Cenarth and the forerunner of the Holy Trinity Church and also the Church School. Built in 1786 within the walls of a previous mediaeval church the little chapel was never consecrated. It served the town well before Holy Trinity was built in 1842. It then became the church school up till the school was built in 1863. It ended its life as a storehouse before being demolished. When Carmarthenshire County Council were extending the car park in 1985 the foundations of the little church were discovered. It showed how one had been built on top of the other but between the floors were several skeletons.



Holy Trinity Church

Holy Trinity Church on Church Lane, was built in 1842 to replace an earlier chapel that stood within the Castle Walls. The new church was designed by architect J.L Collard of Carmarthen. Though most of the furnishings were renewed in the early 20th century there is still some very good 1860 stained glass under the tower, while the east window glass dates to 1924. Most of the woodwork also dates to 1920.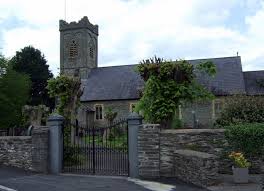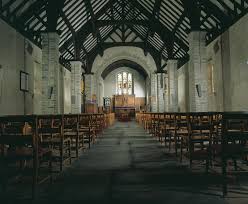 The Court House

The court house in Church Lane opened 15th of March 1847. the grade 2 building was designed by C Reeves, architect to the County Courts of England and Wales and built by George Morgan of Carmarthen. in 1870 at a cost of £2000.
This has been the Library since 1998 when it moved from the Market Hall. Previous to this the County Court was held in the Salutation Hotel on Bridge Street and the Magistrates Court in the Old Police Station.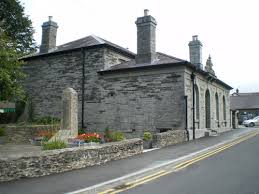 Newcastle Emlyn Bridge

Newcastle Emlyn Bridge is of a uncertain date, probably 18th century. It was widened in the 19th century, but possibly includes some earlier work. Built of rubble stone, it has 3 elliptical arches, with a higher and broader central arch. There are full-height cutwaters on the east side, those on the west side are covered by bridge widening. The west side has string courses over the arches, stepped over the central arch (but not continuing over the north arch). There are rubble parapets. (Reference: Cadw listed buildings database).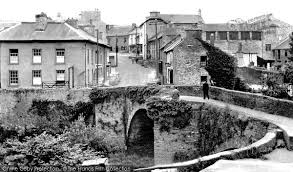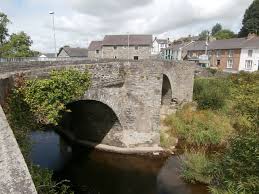 Printing Press

The first permanent printing press in Wales was established by Isaac Carter who came to Adpar from Shrewsbury in 1719. He stayed for about seven years before moving to Carmarthen where he published and printed more booklets. Most of his printed texts were on commission, religious and in Welsh. There is a commemorative plaque on the wall near the bridge. The actual press was above this on the old Turnpike Road from Cardigan to Lampeter in a disused pub, the Black Horse.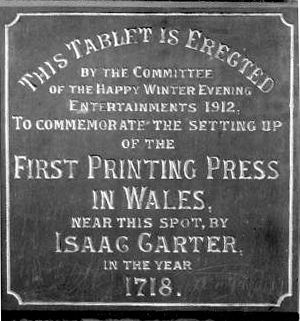 The River Teifi

The River Teifi, the longest river which is wholly in Wales, flows 75 miles from its source in Tregaron in the Cambrian mountains to it's estuary at Cardigan. Meandering through lush meadows and rolling hills, tripping over shallow riffles, crashing over falls and dropping into dark pools.
Afon Teifi is a Site of Special Scientific Interest. It is protected by law and has been designated as a Site of Special Scientific Interest since December 1997 in an attempt to protect rare or unique features or species within it. The site has an area of 778.18 hectares and is managed by National Resources Wales. This SSSI has been notified as being of both geological and biological importance.
Between Cenarth and Cardigan, there is an ancient tradition of fishing and travel using coracles – very simple light-weight boats made of bent sticks covered with waterproofed hide or skins. These are paddled by a single oar used at the front of the craft which requires great skill. The principal use for coracles is for salmon fishing using nets. This form of fishing is now very tightly controlled and the right to fish in this way is passed down from father to son. There is also an age-old tradition of illegal salmon and sea-trout fishing in the lower Teifi.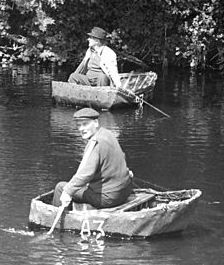 It is in these lower reaches of the river that the angler can expect to catch Salmon and Sea trout fresh off the tide. It is here just above these tidal limits that the Teifi Trout Association water begins and extends for some 30 miles upstream.
https://teifitrout.co.uk/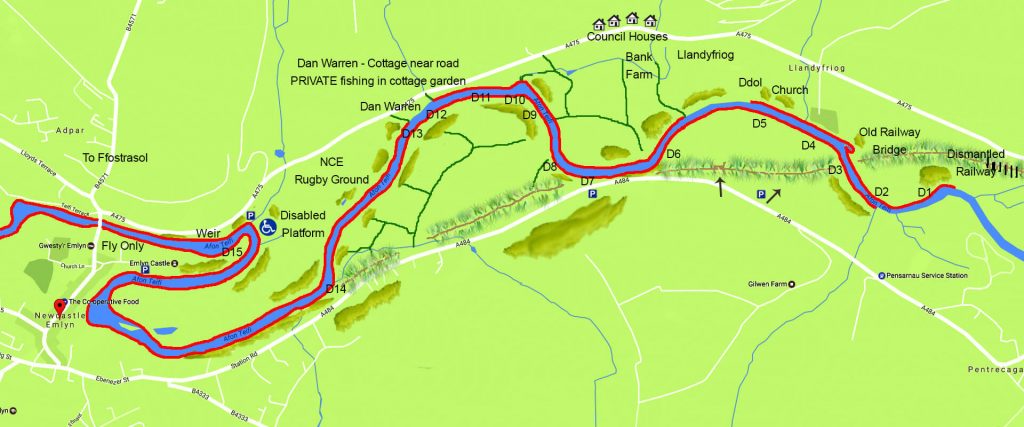 The Workhouse

The Newcastle-in-Emlyn Union was formed in 1837 and the Workhouse was built in 1838-39 at Aberarad, one mile from the town. Opened in 1840 for 150 inmates it never catered for more than 60. The first Master was David Davies followed by Lewis Morgan and finally Henry Evans. Closed in 1915 the Workhouse was partly used as accommodation for families awaiting local housing and a cheese factory. It became a Cow & Gate factory in 1932 and has remained a milk factory ever since, changing hands several times. Since the last rebuild of the factory in 2017-18 all the old workhouse buildings have now gone.


Railway Station

The broad gauge Carmarthen & Cardigan Railway arrived at Llandysul in 1864. It was converted to standard gauge in 1872 and taken over by the GWR Railway Company in 1881 who eventually extended the railway into Newcastle Emlyn in 1895. It was never extended to Cardigan. It catered for passenger and goods services connecting to the main Carmarthen to Aberystwyth line at Pencader. Due to the Beeching cuts it closed to passenger traffic in 1952. Freight services continued until September 1973. Traffic was mainly coal, oil and cattle feed in, and agricultural produce including livestock from local marts out. Site was demolished and an industrial area formed.


Emlyn Grammar School

Built in row of shops and houses in Water Street in 1867 by Thomas Timothy Elias who became its first headmaster. T T Elias had been a teacher at the Adpar Academy before taking on this undertaking. There was room for 40 pupils, a piano and three teachers in this one room establishment. The School gained such a reputation that pupils came from far and wide in Wales and lodged in the town. T T Elias retired in 1893 and the headship was taken over by John Phillips, a former pupil. John Phillips was the son of Evan Phillips the local Methodist minister of Bethel Chapel. Religion played a big part in the everyday studies and pupils were prepared for the Ministry and a place at Trevecca College, Brecon. In September 1904 Evan Roberts and Sydney Evans arrived from Loughor as students and were instrumental in fanning the flames of the 1904-05 Methodist Revival in Wales. Following the First World War due to lack of students the school was opened to all sexes. Many came here to resit their County School examinations. With the retirement of John Phillips the school became a meeting room, eventually being gifted to the WI as a meeting room. Part of the street has been demolished to aid traffic flow.


Bank House

A Plaque is fitted to the wall of this building on the corner of Bridge Street and Market Square. It commemorates authoress Allen Raine (Ann Adaliza Puddicombe) who was born here in October 1836. She was known as the "Welsh Catherine Cookson." She was the daughter of Solicitor Benjamin Evans and Letitia Grace Evans. She spent time in London and returned to Wales in 1856 and married Beynon Puddicombe a bank correspondent at Penbryn Church in 1872. They retired to live at Bronmor, Tresaith in 1900 where Beynon died in 1906. She died in 1908 and they are both buried at Penbryn Churchyard. She wrote over a dozen books with the first, Ynysoer, winning a National Eisteddfod prize in 1894. Her last book, Under the Thatch, was completed by her nephew Lyn Evans in 1910.


Fatal Duel

The last fatal duel in Wales took place at Danwarren Fields between Adpar and Llandyfriog in September 1814. The protagonists were John Beynon a Solicitor of Adpar Hill House, Adpar and Thomas Heslop a gentleman from the West Indies who was at the time living in Carmarthen but had come to Newcatle Emlyn for Partridge shooting. He had been part of John Beynon's party at a shoot at Danwarren during the day and had been invited by Beynon to supper at Adpar Hill House that evening the 8th of September. After the meal when the wine was flowing he started complaining about the shoot and that the "Cardiganshire Gentlemen" present hadn't allowed him to shoot where and when he wanted that day. He kept returning to the topic all the time and in the end Beynon threatened to throw him out. This was done and Heslop told Beynon that he could expect a "challenge" in the morning. The "challenge" duly arrived and they agreed to meet at Danwarren Fields on the Saturday 10th September 1814. James Hughes acted as Beynon's second and John Walters as Heslop's. It was agreed that they stand 12 paces apart and that James Hughes should give the command "Fire." Heslop's gun did not fire but Beynon's did killing Heslop. Heslop was buried in Llandyfriog churchyard on Monday 12th September 1814 aged 36. They were all charged with Heslop's manslaughter but only fined.